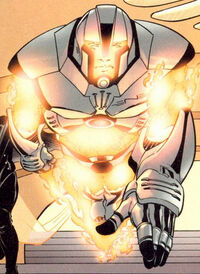 N-Forcer is a superhero living in Astro City who works for a company called Nicholls-Royce Electronics and later N.R.Gistics, Inc.. Created by Kurt Busiek, Brent Anderson, and Alex Ross, N-Forcer first appeared in Image Comics' Astro City publication Astro City (Volume 1) #2 in 1995. There are two different versions of this character, the original and his successor. The original N-Forcer was N-Forcer I, an original member of the Honor Guard. His successor, N-Forcer II, works for a high tech research facility as well as being a member of the Honor Guard. It is suggested that the N-Forcer is the same man in a different suit. But it is also suggested that he might be any man placed in the suit.
Characters
Edit
Original (1995)
Edit
Main article: N-Forcer I
Successor (1995-Present)
Edit
Main article: N-Forcer II
External links
Edit
Community content is available under
CC-BY-SA
unless otherwise noted.