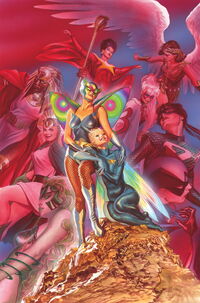 Hummingbird is a superhero living in Astro City created by Kurt Busiek, Brent Anderson, and Alex Ross. She first appeared in Image Comics' Homage Studios publication Astro City (Volume 2) #13 in 1996. There have been two different versions of the character, a mother and her daughter. The original Hummingbird was Hummingbird I, a floating woman with a laser gun. Her daughter, Hummingbird II, is a member of the modern incarnation of the Honor Guard.
Characters
Edit
Original (1996)
Edit
Main article: Hummingbird (Barbara Hammacher)
Successor (2008-Present)
Edit
Main article: Hummingbird (Amanda Hammacher)
External links
Edit
Community content is available under
CC-BY-SA
unless otherwise noted.